Pets 8ply - Pooch Power Book 365 Heirloom/Panda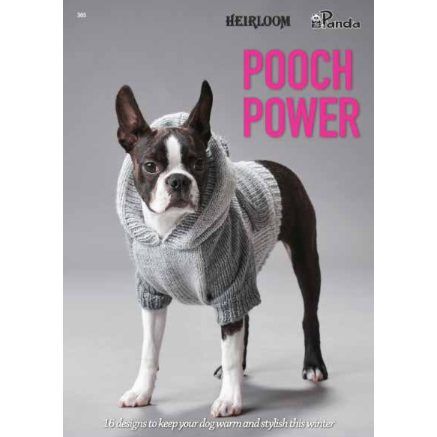 Give your pooch a new Winter wardrobe, with 16 designs to keep your dog warm and stylish this Winter.  Pattern styles for best friends of all shapes and sizes.  Includes patterns for knitted pooch trackie dacks and scarf, plus a handy guide to measuring your dog.
The patterns are designed for Heirloom Dazzle 8ply 100g and Panda Magnum 8ply acrylic.  If you'd like to craft a cosier pure wool coat for your pooch, Heirloom Merino Magic 8ply or Cleckheaton Country 8ply yarn can be used, by approximately doubling the yarn quantities indicated (which are for large 100g balls rather than standard 50g balls).  Just check the metreage of the substitute yarn compared to the pattern yarn before purchasing your wool (details can be found on the individual yarn pages by clicking the links above, or call Alison on 0408 992 927 if you'd like help with this). 
Pictured on Cover: Hoodie in sizes XS-XXL (1-2 x 100g balls Main Colour, 1 ball Contrast Colour).  Pictured from top left: Embossed Coat sizes XS to XXL (1-3 balls Dazzle); Fair Isle Coat (1x 100g ball each of 3 shades); Scarf  (1 ball each of 2 shades for all sizes); Mohawk Coat (1-3 balls Dazzle); Vest (1-2 balls Dazzle); Tasselled Coat (1 ball Main Colour, 1 ball each of 6 Contrast Colours); Cardigan (1-2 balls Dazzle MC, plus 1 ball CC); Plaid Coat (1 x 100g ball in each of 3 shades); Cable Coat (1-3 x 100g balls).