Our Vision & Useful Info
About Us

Our Purpose -
We understand home is where the heart is.  Our mission is to unleash your creative spirit with projects to give and share, and nurture you and your family with quality natural fibre yarns, which both care for skin and are sustainable, low impact choices for the environment.
Our Values - 
We value quality natural fibre products, crafted using the highest manufacturing standards.  Wherever possible, we source products made right here in Australia, or supplied by Australian companies.  It's important to us to provide you with products we ourselves are proud of and enjoy.  We want knitters and crocheters to work with materials that enhance their love for their chosen craft, look beautiful in their homes and inspire their creativity.
We pride ourselves on providing good old-fashioned friendly customer service and a stress-free buying experience. Unless otherwise stated, all products on our website are currently in stock in our Boolarra, Australia warehouse, ready for despatch.  We are always happy to talk to our customers about their projects and make sure the yarn you order is the very best fit for your needs. 
We understand ordering on the internet can be an uncomfortable experience for some, but that shouldn't prevent you from working with beautiful natural fibre products.  We offer a full-colour mail-order brochure at no cost, free yarn samples, and the option to order via mail or phone if you choose.  Mail-order customers will receive the full benefit of all current special offers and pricing on our website.
Our Story -
The Knitting Yarns by Mail adventure started out from very unassuming beginnings.  Established as Stokesay Mohair Farm in 1995 in Pearcedale, Vic (and relocating to Boolarra, Vic in the beautiful Strzelecki Ranges of Gippsland in 2010), we began by selling the mohair fleece from our flock of angora goats to spinners, crafters and doll-makers, before branching into the field of natural fibre knitting yarns, creating our own hand-dyed range of mohair yarns (our hand-dyed looped mohair product is still available).
By the mid-naughties, our natural fibre knitting yarn business was thriving, and we decided it was time to separate the mohair business of Stokesay Mohair Farm from our retail knitting yarns.  'Knitting Yarns by Mail' was born!
Since then, we've diversified our range, adding in some big-name brands including Noro yarns, Debbie Bliss, Eki Riva and Lana Gatto, and expanding our range of Patons and Heirloom yarns which have long formed the back-bone of our small family-run business. 
If you want to learn more about our farm, you can read about it on our Stokesay Mohair Farm website.
We hope you like what we have to offer.  Feel free to share your thoughts with us, we're only a phone-call away!
Alison, Sharon & The Team at Knitting Yarns by Mail
How to stay up to date with Knitting Yarns by Mail
The Knitting Yarns by Mail blog is now a handy tab on the left-hand menu.  Our blog features the latest product updates and news, articles and favourite knitting patterns. 
You can also sign up for our monthly ENews, and we'll keep you up to date with what's been happening at Knitting Yarn by Mail.   Our ENews also contains free patterns designed in-house by our pattern designer and manager, Alison Craven, which are all check-knitted by our team.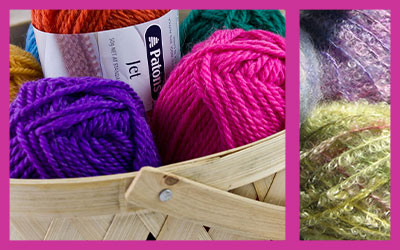 In The News
Think you've seen the "Knitting Yarns by Mail" name around somewhere? You probably have! Here are some of the places we've been in print over the years.
Our Silk Cowl featured on the

cover of Creative Knitting #47

Our Shoulderette pattern also

featured on the cover of

Creative Knitting

Our patterns have

regularly featured in

 Creative Knitting magazine

(this one inside issue #29)

This "Knitting Yarns by Mail" pattern

featured in Australian Knitting

magazine vol.6 #2

Alison edited the

Mirboo North Times

"Let's Knit!" column

The Weekly Times featured our

farm in a multi-page spread

4th June 2015
Knitting Feature Articles
Below are some articles about knitting that may interest you:
Guide to Yarns on our Site