Heirloom Dazzle 8ply - 100g balls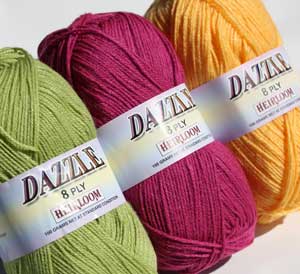 These are large 100g balls - in a great range of shades at a great price! Acrylic is a great choice for knitting toys for stalls or items which don't need much washing.
This is the recommended yarn for patterns inside the book "Pooch Power", as it's quick to wash and dry for your fur baby.  To have a look inside Pooch Power, click here.
100g (310m) ball. 100% acrylic. Tension: 22sts to 10cm using 4mm needles.
Suitable for most 8ply patterns. Machine Washable.