Ordering
Ordering, Domestic/International Shipping & Payment Options at Knitting Yarns by Mail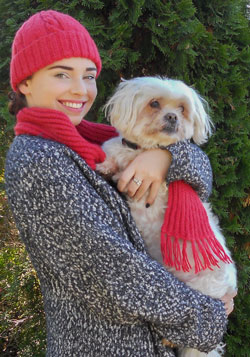 Enjoy our super-fast order turnaround.  Most orders are despatched within 1-2 working days, so you won't be kept waiting.  For your convenience, our warehouse is fully stocked and replenished weekly.  If there will be a delay for any reason, we'll contact you.
On this page you'll find information about:
Shipping
Ordering
Payment Options
Returns
Frequently Asked Questions - when ordering
Tips on Flat Rate Postage
Shipping
Shipping within Australia: We offer flat rate postage on all our orders sent within Australia of just $10. Orders are shipped via Australia Post.  In most cases, this represents a significant discount to the real cost of shipping, saving you dollars on every order.
Shipping to New Zealand: we happily now offer flat rate postage to New Zealand of $10 when:
your order totals over $30 (excluding postage), and;
the parcel weighs under 500g including packaging (allow 100g for this).
These orders will be sent Economy Air and will not have tracking.  If tracking is required, normal Australia Post rates will apply following the procedure outlined below for International Shipping.
As a guide, most balls of yarn are 50g but check individual listings for details.  If you're unsure whether your parcel to New Zealand will qualify for flat rate shipping, please contact us.
Shipping of all orders to New Zealand which do not meet the criteria above will be handled as per the details below for International Shipping.
Shipping for all other International customers: due to the current Covid situation, we are unfortunately not able to take orders from other International destinations at this time.  With flight restrictions etc., Australia Post are not able to process international parcels in a timely manner.  For New Zealand customers who do not meet the eligibility criteria for flat rate postage above: additional postage and insurance charges will apply.  We will calculate these charges manually based on current Australia Post rates, and send you an invoice for the additional amount to the email address your Paypal account is registered to.  As our system is not set up to handle international orders automatically, the initial Paypal payment you make will not be correct (as postage is applied for within Australia only).  If you decide not to proceed with your order after receiving the additional invoice, please let us know as we are happy to issue you with a full refund of all charges already applied. All prices quoted on our site are in Australian dollars ($AUD). 
Ordering:
Ordering is quick and easy with our online shopping cart, which now offers payment using Paypal, even if you don't have your own Paypal account.
If you would prefer not to order and pay online you may post your order to Knitting Yarns By Mail, 114 Fox & Fanckes rd, Boolarra Sth, Vic 3870 Australia. Please include your delivery address and phone number, the name and shade numbers of your selected yarns, the price per ball and total price.  Add on $10 for delivery in Australia.  We will also need your credit card details (we recommend calling us with these for added security).  You can request a copy of our FREE mail-order catalogue by writing to the same address.
Alternatively, you can give us a call on 0408 992 927 and place your order over the phone.
Payment options:
Payment can be made quickly and securely via Paypal, using your credit card, debit card or bank account of your choice.  For your security and peace of mind, no credit card details are held on our site; payment is processed by Paypal's secure portal.  You don't need a Paypal account to make payments in this way; simply follow the onscreen prompts.  If you are having trouble with this, please call Alison on 0408 992 927, we're only too happy to help!
Payments can also be made by direct deposit, cheque or money order.  Please send us an email at stokesay@bigpond.com with your name and phone number if you are sending payment via one of these methods; or phone Alison on 0408 992 927 to arrange.
Direct Deposit payments can be made to:
Knitting Yarns by Mail
Westpac Bank
BSB: 033 060
Account No: 12 3687
Please use your name or order number to identify yourself when using direct deposit.
Payment for international orders can only be accepted via Paypal.
Returns/Exchanges:
in addition to your rights under Australian Consumer Law, our Returns/Exchange policy below is designed to ensure you have a pleasant buying experience from our store.
If you are not completely satisfied with your yarn purchase or you change your mind, you can exchange your yarn for another shade or alternative yarn.  All exchanged yarn must be in original, unused condition.  All other products must be in undamaged, unused condition in original packaging, and with all accessories and instruction manuals.  Return postage is at the buyers' expense, and it is your responsibility to package your products for return satisfactorily to ensure all goods reach us in original, saleable condition.  We reserve the right to assess the condition and age of returned products before offering an exchange.  Change of mind exchanges may only be accepted within 28 days of original purchase.
Knit & crochet yarn colours on this site have been reproduced to the best of our ability. Given that all our products are made from natural fibres some variation is to be expected and indeed is often part of their unique character.  Please also be aware there can be significant differences in the way various computer monitors display colours.  We recommend you ask us for a free sample of your yarn prior to purchasing if you require a specific shade or texture to avoid disappointment.
If a product is faulty or your receive the incorrect product, you will be offered a choice of exchange or refund as per Australian Consumer Law.  Please note that a weavers knot in a ball of yarn in not considered a product fault.
Frequently Asked Questions
Q: I want to order 5 balls of yarn, but the Shopping Cart keeps reverting back to 1 ball when I change it. What should I do?
A: You need to click the 'Update Cart' button after you change the ball quantity.  This will present you with a revised total for that product.  You can then continue shopping or proceed to the 'Checkout': the changes you made will be saved to your Shopping Cart.  Please feel free to call us if you are still having difficulties.
Some tips for getting the most out of our flat rate postage
Our flat rate postage is amongst the cheapest around, as we happily share part of the cost of shipping your yarn to your door.  We want to make sure your online purchase with us is both fast and affordable.  But how can you get the most out of each and every delivery?
1. Plan ahead. Remember, no matter how large your order, we'll still only charge you the flat rate - think of it as a loyalty program that rewards you the more you spend each time. It takes a bit more planning, but if you think 1 or 2 projects ahead, you'll save more in the long run.
2. Order everything you think you will need for a project at the one time. If you fall a ball or two short or don't have the right needles, not only do you pay additional postage, but you also risk having to mix dyelots and will have to wait while we process your new order. In some cases the yarn may have been discontinued in the meantime, and your yarn may be difficult to source. Avoid this frustration by ensuring you have everything you will need to see the project through to the end before you begin.
3. Place your order together with a friend. Work out what you both need together (which is great fun too!) then get everything sent to the one address for a single delivery fee. You can divvy up your parcel when it arrives (and get a sneak peek at everything your friend ordered at the same time!)
We hope these tips help you to get the most out of ordering with us.  Thankyou!