KnitPro Zing Set Top-Up Pairs of Needles (25,35 & 40cm Long)
*  In the interest of keeping needles available for everyone who needs them, please only order the needles you require.  We have a current limit of one pair of needles per diameter per customer at the moment to ensure all our customers are able to continue knitting. *
If you're buying (or have previously purchased) a KnitPro Zing Needle Set, and want to top it up with additional small diameters, you'll find them here!

* Please carefully check all details match that of the set you are purchasing: needles here are 25cm, 35cm or 40cm long in several diameters. 
If you wish to purchase additional needles for your 30cm Needle Set, we carry the full range of 30cm needles in our store: find them here.
These needles are available to purchase with or without the Zing Needle Sets if they better suit your needs than our 30cm range.  Colour is for display purposes only: actual needles will match the colour appropriate for the Zing needle diameter you are purchasing.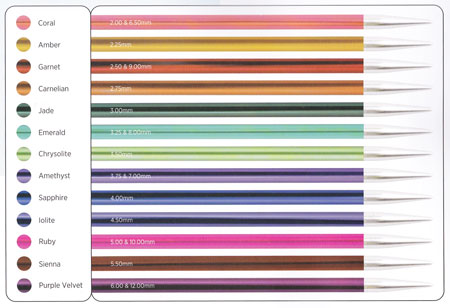 This product was added to our range on 7th September, 2018.