Debbie Bliss Cashmerino Aran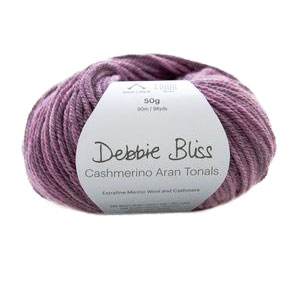 A blend of extrafine merino wool, acrylic and cashmere in aran weight.
We're bringing the multi-hued Tonals to you for the same low price as the plain-dyed shades for great value.
50g (90m) ball.
Made in Italy.
Cashermino Aran/Tonals: 55% extrafine merino wool, 33% acrylic/microfibre, 12% cashmere.
Tension: 18sts & 24 rows to 10cm using 5mm needles.
Would you prefer a high quality Australian Made, 100% natural fibre option? Take a look at Heirloom Merino Magic 10ply Aran - click here.
Interested in a pure cashmere yarn? For the pinnacle of luxury and elegance, see Lana Gatto Prestige pure cashmere.