20cm Long KnitPro Zing Double Pointed Metal Needles
*  In the interest of keeping needles available for everyone who needs them, please only order the needles you require.  We have a current limit of one pair of needles per diameter per customer at the moment to ensure all our customers are able to continue knitting. *
20cm long Zing double-pointed needles, crafted from superior grade light weight aluminium in a spectrum of vibrant & lively colours.  The colours are consistent across the Zing range: so if you've got 4mm circulars, they'll be the same sapphire blue as the 4mm straights or double pointed needles, for easy location in your knitting kit.
Each set contains 5 double-pointed needles, 20cm long, in your chosen diameter.

20cm double-pointed needles are great for bags and beanies and larger toys.  If you're working on socks, small toys or small projects, you'll find our 15cm double-pointed needle range ideal; find them here.
Main image is for display purposes only: colour of your needles will match the diameter you select (see chart).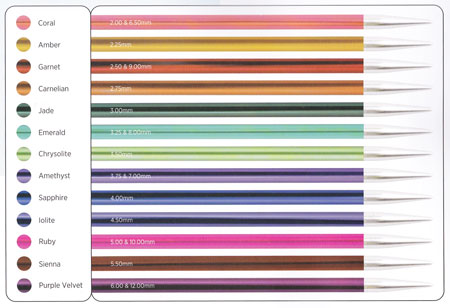 This product was added to our range on 7th September, 2018.