Free Pattern: Hooter Family
Posted on 07 April 2016 | Comments: 0
Meet the Hooter Family!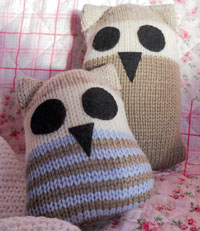 Knit this adorable father and son set in 8ply pure wool yarn.
Size: Father approx 23cm, Son approx 17cm
Materials:
1ball Heirloom 8ply Merino Magic Fleck  main colour (MC) (shade 562)
1 ball Heirloom 8ply Merino Magic  C1 ( 226 natural cream)
1 ball Heirloom 8ply Merino Magic Fleck C2 (552 natural fleck)
1 ball Heirloom 8ply Merino Magic C3  (516 pale blue)  for son only
Pair 4mm needles
Black felt for eyes and beak
Stuffing
Wool needle for sewing up
Sewing needle & black thread to sew on eyes
 
INSTRUCTIONS
Knit in stocking stitch throughout (1 row knit, 1 row purl).
Using MC and 4mm needles cast on 31 (25) stitches.
Father only:
Knit in stocking stitch until work measures 14cm from beginning.
Son Only:
Knit in stocking stitch stripes: 2 rows main colour, 2 rows C3 until work measures approx 8 cm from the beginning finishing with C3.
Both Sizes:
Change to C1 and continue a further 4cm.
Change to C2 and work 14cm.
Change to MC and work a further Father 14cm (Son: approx.  8cm , in stripes ( 2 rows C3,  2 rows MC ending with MC, to correspond with stripes at cast on end )
Cast Off.
Makeup:
Cut eye and beak shapes from black felt and stitch carefully in place to form face detail. Use a fifty cent piece as a template for eye shape. Beak is a triangle.
With right sides together sew side and bottom seams leaving sufficient opening to turn owl right side out.. Turn work right side out. Stitch across triangle formed in top corners 2cm on each side. This forms tufts on top of head.
Stuff owl and sew opening closed.
Designers Note:   My owls finished up with a very Panda bearish look because I forgot that the eyes would get further apart when the stuffing went in.. Much laughter was had by all so I decided to leave them as they were. Everyone needs a good laugh now and then and the kids don't actually know what a real owl looks like anyway. Unless you want to amuse your family I suggest you place the eyes very close together to allow for  stretch.   The upside is I now have a great idea for a Panda pattern…...Alison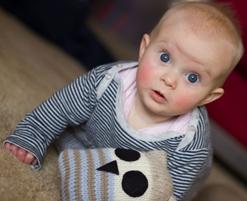 © 2016 Knitting Yarns by Mail