Textured Heirloom Jazz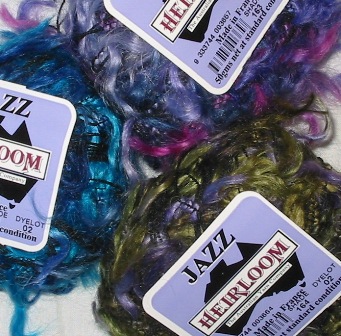 Tufted yarn ideal for scarves, trims and small projects. Imported from France by Heirloom Yarns.
Jazz is such a versatile yarn: see our free patterns page for a simple scarf pattern in Jazz, or invent your own custom designs!
50g (90m) ball.
74% mohair, 26% poly.
Suggested needle: 4mm.
Looking for a multi-coloured yarn and not seeing what you want here? Try Heirloom Jigsaw 4ply, Shepherd Colour 4 Me 8ply, Patons Jet 12ply, Noro Silk Garden 8ply or Bella Storia Jigsaw 4ply.
Looking for mohair yarn but haven't seen what you want here? Try 8ply yarns Eki Riva Kid Mohair or Luxury Mohair.
Available Options:
Please select your desired option using the buttons provided