Malabrigo Silky Merino 8ply 50g Hanks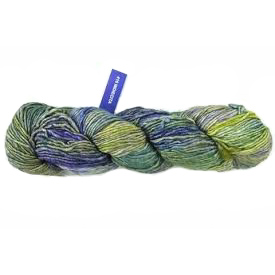 Kettle dyed soft merino blended with lashings of silk, for a beautiful sheen finish with wonderful drape.  The combination is soft, smooth and itch-free even on the most sensitive skin, perfect for garments, scarves and other next-to-your-skin items.  The silk-rich composition of this yarn gives it a bit more weight and drape than pure merino, with a sheen finish comparable to that of pure silk.  Each fibre takes up the dye differently, adding extra depth to this stunningly rich, vibrant, glossy yarn.
Silky Merino is suitable for most 8ply patterns, including those for cotton and wool, so you can use it with a wealth of knitting & crochet patterns you may already have in your kit bag.
50g (137m) ball
51% silk, 49% merino wool
Made in Uraguay
Tension: 22-24sts per 10cm using 3.5-4mm needles or 4.5-5.5mm crochet hook
hand wash only in cold water
Q: "How does Silky Merino compare to other yarns of similar composition?"
A: Whilst the shade combinations are comparable to other wool/silk blend yarns you'll find on the market, Silky Merino is much softer and more lustrous than comparable yarns.  Hold Silky Merino in your hands, see how it catches the light, and you won't ever want to put it down!
* Colour variations are a unique feature of this yarn's hand kettle-dying process.  Make sure you have enough yarn to complete your project, since each bag is a different dyelot, and in the case of multi-shades such as Indiecita and Piedras, may vary from skein to skein.  To ensure random colour distribution, work from 2 balls of yarn at once, alternating a few rows from each ball.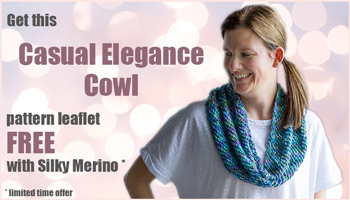 * Free pattern offer for a limited time, when you buy any quantity of Malabrigo Silky Merino (save $4.95).  Requires 1 skein Malabrigo Silky Merino, and a pair of 6mm needles.  No need to do anything: pattern leaflet will be included automatically with your order when you buy the yarn.  Our cowl in pictured in Shade Pradera.