Accessories 4ply - Patons Head, Hands & Feet 8018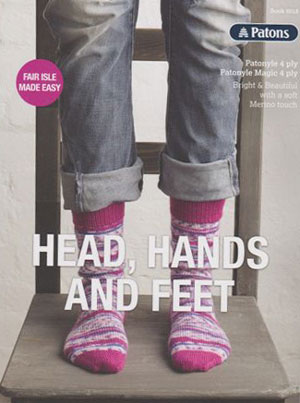 Bright and Beautiful garments for Heads, Hands and Feet in Patonyle Merino and Patonyle Magic 4ply.
This pattern book contains 2 patterns for crochet, the remainder are knitting patterns.
As a guide, you will need:
Family Socks: to fit foot length 14, 18, 24, 27cm - 1 ball MC and 1 CC for all sizes ankle length. Add an extra ball MC for calf length in 24cm and 2 extra balls for largest size.
Family Beanie: to fit head 52, 54, 56, 58cm: 1 balls MC for all sizes, CC 1,1,2,2 balls.
Family Mitts or Gloves: 1 ball MC, 1 ball CC. For gloves in single colour add 1 ball for largest size (21cm hand).