Free Mothers Day Pattern - Padded Coathanger Cover
Posted on 18 April 2018 | Comments: 0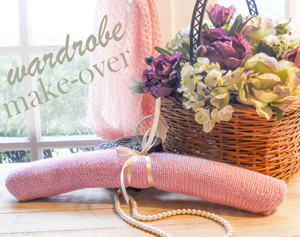 Padded Coathanger Cover
Make over Mum's wardrobe and look after her favourite garments with a range of padded coathanger covers in her favourite complementary shades.
Materials: 1 ball Heirloom Merino Magic 8ply or
                   1 ball Cleckheaton Country 8ply
                   1 pair 4mm knitting needles
                   polyester wadding
                   wooden coathanger: small (30cm) or standard (38cm)
                   1 sewing needle
Size:  to fit small or standard wooden coat hanger
Tension: 22sts to 10cm over stocking stitch
Instructions:
Using 4mm needles, cast on 55 (75) stitches.
1st row : Knit
2nd row : Purl
These two rows form pattern (stocking stitch).
Continue in pattern until work measures 14cm.
Cast off.
To make-up:
Remove hook from hanger.  Pad hanger generously with wadding, catching here and there with a stitch or dab of glue to secure.
Fold knitted cover lengthwise over padded hanger.  Sew bottom and side seams.  Replace hook.
Coat hanger may be decorated with a ribbon bow (as pictured) or other adornment.
(c) 2018 Knitting Yarns by Mail