Beach House Refresh: Summer Cotton Cushion Pattern Offer
Posted on 15 January 2019 | Comments: 0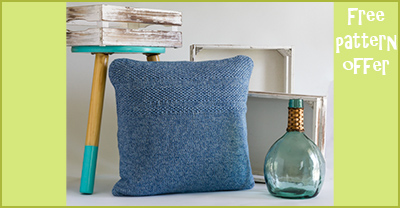 A few Summer accents around your home give you the flavours of Summer, without ever leaving your front doorstep.
Give your home a Beach House refresh over Summer with this blue marle cushion in soft cotton.
For a limited time, you'll receive this pattern leaflet free with your order when you make any purchase! (RRP $4.95). If you'd like to get the yarn for this pattern, you'll need just 3 large balls of Debbie Bliss Denim DK, with enough remnants to craft accents on any further cotton projects you're working on.
* pattern will be included automatically with your order.
Note: our cushion is knitted in Debbie Bliss Denim DK (Shade True Blue).
© 2019 Knitting Yarns by Mail
Want to see more from Knitting Yarns by Mail? Subscribe to our mailing list for style inspiration, new releases, special offers and patterns to your Inbox.