Kit: Chunky Pure Merino Scarf KKA1809
Chunky knits create on-trend accessories with the added bonus of lovely cosy Winter warmth.  This scarf, crafted in super soft premium Australian merino, is a great addition to your Winter wardrobe and will become a go-to staple throughout the colder months.  Wear it your way - pair it with neutral tones from your wardrobe to add a splash of fashion colour to your outfit; create a complementary palette of blues or greens from head to toe; or work your scarf in neutrals to match with most items in your wardrobe.
The Chunky Pure Merino Scarf Kit contains:
sufficient 20ply Heirloom Woolshed Merino yarn to complete the project
a copy of our exclusive Chunky Merino Scarf knitting pattern
You will also need a pair of 10mm knitting needles (not included.  If you need the needles too, click here).
The finished scarf measures 22cm wide x 140cm long.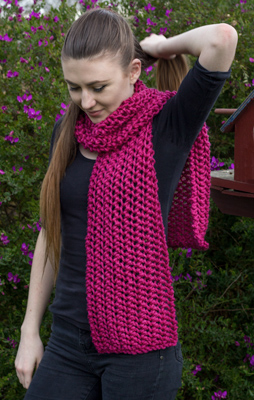 About Heirloom Woolshed Merino knitting yarn: this highly popular super chunky 20ply pure merino wool is soft, warm and very comfortable.  The premium wool is fully machine washable, so you can wear your finished scarf every day without any worries.
Looking for outfit inspiration for how to wear this scarf? Click here to view the blog post.