Bella Storia Damasco 8ply Mohair
Damasco is a delightful multi-shade 8ply brushed mohair yarn that is suitable for most 8ply patterns, including those designed for Studio Mohair.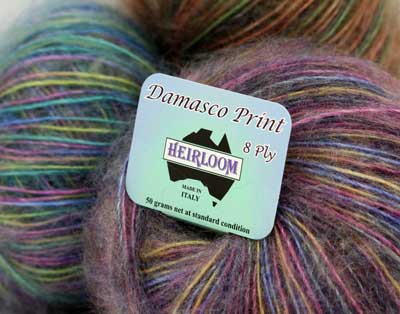 50g (160m) ball
50% mohair, 50% acrylic
Made in Italy
Tension: 22sts per 10cm using 4mm needles
Sourced from the fleece of the angora goat, mohair is the warmest of all natural fibres; and it easily retains warmth without becoming heavy or saggy.  The key to it's success is the loft of these soft, durable fibres, which create a barrier of body-warmed air between you and the chilly temperatures outside.
Bonus patterns when you buy Damasco!
For a limited time, get two exclusive scarf patterns for Damasco when you buy this yarn - Lacy Fringed (left) and Feather & Fan (right).*  Both scarves use just 2 balls of Damasco (for length as pictured), or 3 balls Damasco for the longer variation.  RRP. $4.95
* Automatically included with your order.