Useful Info
About Us

Here at Knitting Yarns by Mail we value quality products, with a strong emphasis upon products made with natural fibres and wherever possible, made in Australia.  It's important to us to provide you with a product we ourselves are proud of and enjoy, and we want knitters and crocheters to be able to work with a range of materials that enhances their love for their chosen craft, and inspires their creativity.
Our Story - The Knitting Yarns by Mail adventure started out from very unassuming beginnings.  Established as Stokesay Mohair Farm in 1995 in Pearcedale, Vic (and relocating to Boolarra, Vic in the beautiful Strzelecki Ranges of Gippsland in 2010), we began by selling the mohair fleece from our flock of angora goats to spinners, crafters and doll-makers, before branching into the field of natural fibre knitting yarns, creating our own hand-dyed range of mohair yarns (our hand-dyed looped mohair product is still available).
By the mid-naughties, our natural fibre knitting yarn business was thriving, and we decided it was time to separate the mohair business of Stokesay Mohair Farm from our retail knitting yarns.  'Knitting Yarns by Mail' was born!
Since then, we've diversified our range, adding in some big-name brands including Noro yarns, Debbie Bliss, Eki Riva and Lana Gatto, and expanding our range of Patons and Heirloom yarns which have long formed the back-bone of our small family-run business.  In the last few years we've also brought on board a small number of budget yarns for those projects that don't warrant a premium product, to become a true one-stop-shop for Australian knitters.
If you want to learn more about our farm, you can read about it on our Stokesay Mohair Farm website.
We hope you like what we have to offer.  Feel free to share your thoughts with us, we're only a phone-call away!
Alison, Sharon & The Team at Knitting Yarns by Mail
How to stay up to date with Knitting Yarns by Mail
The Knitting Yarns by Mail blog is now a handy tab on the left-hand menu.  Our blog features the latest product updates and news, articles and favourite knitting patterns. 
You can also sign up for our Mailing List, and we'll keep you up to date with what's been happening at Knitting Yarn by Mail.  You'll also receive FREE patterns designed and tested by us, as well as handy hints and articles.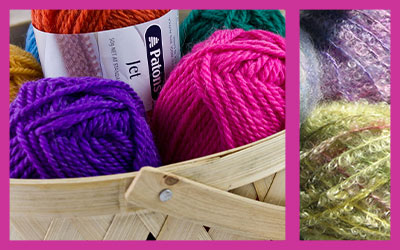 In The News
Think you've seen the "Knitting Yarns by Mail" name around somewhere? You probably have! Here are some of the places we've been in print over the years.
Our Silk Cowl featured on the

cover of Creative Knitting #47

Our Shoulderette pattern also

featured on the cover of

Creative Knitting

Our patterns have

regularly featured in

 Creative Knitting magazine

(this one inside issue #29)

This "Knitting Yarns by Mail" pattern

featured in Australian Knitting

magazine vol.6 #2

Alison edited the

Mirboo North Times

"Let's Knit!" column

The Weekly Times featured our

farm in a multi-page spread

4th June 2015
Knitting Feature Articles
Below are some articles about knitting that may interest you:
Guide to Yarns on our Site