Katia Amigurumi 100% Cotton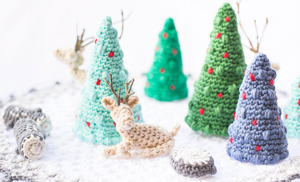 Katia Amigurumi 100% Cotton is ideal for the popular art of amigurumi (the Japanese art of knitting or crocheting small stuffed yarn creatures).  Katia Amigurumi is uniquely sold in packs of 10 small balls of yarn in a range of shades (each ball is 10g each).
 These packs are a great option for crafting multi-coloured crochet or knitted garments and accessories such as colourful shawls.  As a pure cotton yarn, your finished garment will be cool, gentle on skin and machine washable for easy care.  It's also a good yarn choice for working small projects including toys where a small amount of a wide range of shades are needed.
Each pack contains 10x 10g balls in the colourways as pictured.
Warm machine washable
Tension: 24 rows and 33sts to 10cm using 3mm needles (approx 5ply)
Recommended needle: 2.5 - 3mm
Free pattern offer: purchase any Amigurumi pack, and receive a printed copy of your choice of pattern free! 
Select your free pattern below and add it to your Cart with your Amigurumi pack (if you make no selection, we'll randomly select a knit or crochet pattern to send to you).  Buy 2 packs, choose 2 patterns, buy 3, choose 3 patterns etc.  * Please note: free printed pattern is only available with purchase of Amigurumi yarn.  Click on pictures below to enlarge.
Choose from:
Crochet nativity dolls: pack S03 and 3mm crochet hook
Crochet Christmas Micro World: pack S01 and S02 (as a substitute for S04 which is discontinued) and 3mm crochet hook
Crochet snails: pack S03 and 2.5mm crochet hook (makes all 5 snails)
Crochet foulard: pictured in S01, 3.5mm crochet hook
Knitted striped scarf/foulard: you'll need 1 pack Amigurumi (pictured in S05) and pair 4.5mm needles