Childrens 8ply - Kids Winter Wardrobe 367 Heirloom Cleckheaton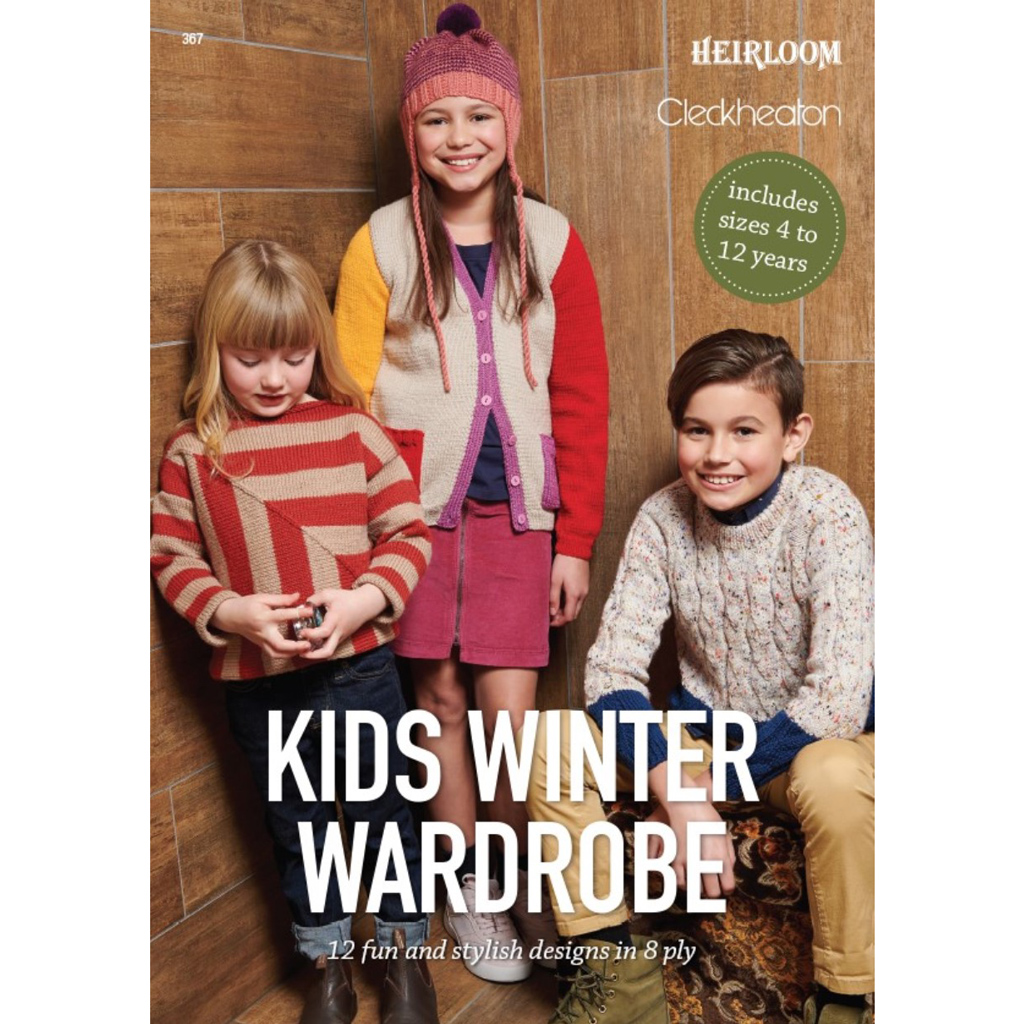 Kids Winter Wardrobe includes 12 fun and stylish 8ply designs for kids aged 4-12 years.
Patterns include Ombre Stripe Rib Jumper, Colour Block Cardigan, Henley Jumper, Mitred Jumper, Tunic, Colour Block Beret, Hooded Vest, Ear Flap Beanie, Mock Cable Jumper, Striped Jumper, Striped Tube Scarf and Fair Isle Yoke Jumper.
These patterns are suitable for 8ply wool yarns, including Heirloom Merino Magic 8ply, Heirloom Colorworks, Cleckheaton Country 8ply and Cleckheaton Country Naturals 8ply.  Below is a guide to the yarn requirements for some of the Easy knits inside the book, suitable for newer knitters.
Girls Tunic (#5):
Easy Knitting
Years                        4     6     8     10     12
To fit chest              60   65   70    75     80
actual size cm         63   68    73   78      83
length cm                50   56    60   64      70
Heirloom Merino magic 8 ply 50gm balls
Main colour            3      3       3      4       4
contrast colour        2      3       3      3        4
Hooded Vest (#7):
Easy knitting
Measurements
Years                 4      6      8      10      12
chest cm           60    65    70     75      80
actual size cm  70     75    80     85      90
length cm         42     46    50     54      59
Heirloom Colorworks 8 ply     OR
Heirloom Merino magic 8 ply -  50gm balls
                           6      7      8       9        10
Striped Jumper (#10):
Easy Knitting
Measurements
Years                 4      6      8      10      12
chest cm           60    65    70     75      80
actual size cm  68    73     78     83      88
length cm         42     46    50     54      59
sleeve length    28     33     38    40      42
Cleckheaton Country 8 ply   OR
Cleckheaton Country Naturals 8 ply - 50 gram balls
Main colour       5       6       6       7        8
2nd colour          2      2        2       2        2
3rd colour           2      2        3       3        3