QUALITY YARNS AND FAST, FRIENDLY SERVICE

  Fully stocked Australian warehouse: orders despatched within 1-2 working days*

  Low cost flat rate postage within Australia: order as much as you want & pay only $8 delivery!

  Free mail-order catalogue & yarn samples: call Alison (8am-8pm AEST 7 days a week) 0408 992 927.  Don't want to order on the internet?  Phone orders can also be placed with Alison!
*If there's a delay for any reason, we'll contact you.
Looking to buy quality knitting and crochet yarns or knitting kits online from an Australian retailer, at an affordable price? 
Welcome to Knitting Yarns by Mail, your online shop for natural fibre yarn, knit kits, specialty yarn, knitting patterns, needles and accessories in Australia. Let us take the hassle out of your next knitting project.
At Knitting Yarns by Mail we bring the yarn store to your door.
Here at Knitting Yarns by Mail we are passionate about natural fibres, and stock a range of wool, alpaca, silk, mohair, cotton and cashmere yarns styled to inspire you.  Wherever possible, we source Australian-made yarns, with specialty yarns imported from Europe and Japan, where the manufacturing standards are at their highest. For everyday projects which don't warrant a premium product, we have added a small number of budget manmade yarns for your convenience.
Interested in crochet?  Visit our new Crochet Corner, where you'll find a range of crochet hooks and patterns designed especially for crochet.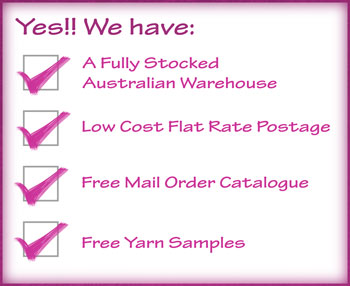 We are a small Australian family business, retailing specialty knitting & crochet yarns from the best brands;  Patons, Cleckheaton, Heirloom yarns (including specialty Jigsaw sock yarn), Debbie Bliss (silk knitting yarn, cashmerino), Eki Riva (alpaca knitting yarn, kid mohair), Lana Gatto (cashmere), Noro knitting yarn, Shepherd, Panda  and Design Spun (mohair), as well as an exclusive range of wool and mohair yarns from Stokesay Mohair Farm.
Becoming a Knitting Yarns By Mail customer entitles you to a FREE subscription to our newsletter, which includes free patterns, yarn samples, interesting articles and details of special offers.
Knit & crochet yarn colours on this site have been reproduced to the best of our ability. Given that all of our products are made from natural fibres some variation is to be expected and indeed is often part of their unique character.  Please also be aware there can be significant differences in the way various computer monitors display colours: if an exact match is needed please ask us for a free sample first to avoid disappointment.
International customers: please visit our "Ordering" page above for further information regarding shipping outside Australia.
Interested in spinning or doll-making? Visit our Stokesay Mohair Farm site, now at http://mohairfarm.com.au.
Thankyou for visiting our site. Happy knitting!
Alison, Sharon & The Team at Knitting Yarns by Mail