Charity Knitting
Knit to support Hamlin Fistula Ethiopia (Aust)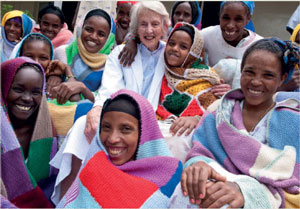 Knitting Yarns by Mail is proud to support  Hamlin Fistula Ethiopia (Aust); a charitable organisation founded by obstetrician Dr Catherine Hamlin AC to raise awareness and much needed funds to treat poorer Ethiopian women suffering from childbirth injuries, specifically obstetric fistula.
Hamlin Fistula Ethiopia runs the Addis Ababa Fistula Hospital, five provincial fistula centres, the Hamlin College of Midwives and Desta Mender, a farm and training centre.  Hamlin Fistula Ethiopia aims to provide an holistic approach to the treatment of women suffering from the horror of obstetric fistula, and give them back their dignity.  In addition to being admitted to hospital and receiving surgical treatment completely free of charge, patients are also provided with literacy and numeracy classes, a new dress and money to travel home.
How Can You Help?
Hamlin Fistula now has an oversupply of blankets for the patients; thankyou so much for your help with this!  Hamlin Fistula now ask knitters and crocheters to donate items they can sell in their Sydney store, with the much-needed funds supporting their work in Ethiopia.  Alternatively, you can organise to sell your knitted items in your local area and donate the proceeds to Hamlin Fistula.
For further details, visit their Fundraising for Hamlin Fistula page.  Thankyou for your support of this deserving charity.